Investing In Innovation (i3)
MNMP and District 75 Awarded $4.6 Million Federal Innovation Grant; Receive $500,000 from National Philanthropic Trust
MNMP and District 75, New York's special education district, have been selected to receive an Investing in Innovation Fund (i3) award from the U.S. Department of Education.
The $4.6 million grant, combined with a $500,000 contribution from National Philanthropic Trust, will fund a five-year project developing arts programs for special education students. Everyday Arts for Special Education (EASE) is a professional development program designed to improve student achievement in the areas of communication, socialization, academic learning and arts proficiency. Through treatment schools and other training efforts, EASE will serve 40,795 students. Dr. Rob Horowitz, Associate Director of the Center for Arts Education Research at Teachers College, Columbia University, will direct the project evaluation.
Our proposal ranked 4th highest out of 49 winning applicants from among 1,700 nationwide (only three of which were for the arts). In order to receive the award, we needed to secure 20% — or $929,000 – in matching commitments from the private sector by September 8, 2010.
We are truly and incredibly grateful for the generous support of the National Philanthropic Trust for the J.P. Morgan Charitable Giving Fund, which at the recommendation of the Education Collaboration Fund (ECF), has committed $500,000 to the project. ECF supporters include the Dalio Family Foundation, Judy and Jamie Dimon, the Finnegan Family Foundation, the Laurie M. Tisch Illumination Fund, the TOSA Foundation, and other anonymous donors. MNMP's board voted unanimously to commit to raising the remaining $429,000 over five years.
Special thanks goes to the EASE program design team: Teaching Artist and Curriculum Designer Dr. Jennifer Raine, District 75 Arts Instructional Support Specialist Kathy London, and Evaluator Dr. Rob Horowitz. Mike Halverson, MNMP's Director of Education, will oversee the project.
To pledge your support, visit our donation page at nycharities.org.
Downloads
MNMP Press Release – » Click to Download
i3/EASE Application Abstract – » Click to Download
i3/EASE Project Narrative – » Click to Download
i3 Featured Articles
U.S. DOE Highest-Rated Applicants Release – » Click to Read
U.S. DOE Grant Winners Release – » Click to Read
Education Weekly – » Click to Read
Americans for the Arts – » Click to Read
More about the Fund
Investing in Innovation – » Click to Read
American Recovery and Reinvestment Act – » Click to Read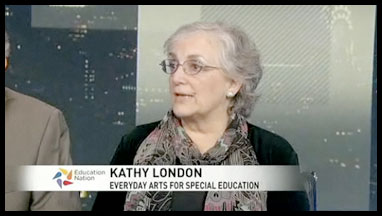 Watch Video:
Project Director Kathy London and Evaluator Dr. Rob Horowitz discuss Everyday Arts for Special Education on NBC's Nightly News with Chuck Scarborough. – » Click to Watch