Performance Archive
Noveller and Zemi17
Thursday, October 8th, at 8:30pm X-Initiative Art Gallery
548 West 22nd Street, New York, NY 10011
Subway: C, E to 23rd Street
Manhattan New Music Project partners with X-Initiative to present two extraordinary artists who use technology in innovative ways for a multisensory performance. This event will take place on Thursday, October 8th on the rooftop of the X-Initiative, integrating INABA's vibrant colored Pool Noodle Roof installation as seating. This performance is part of MNMP's Interactive Music Series, which showcases emerging artists who incorporate new technologies and new media in their work.
Noveller is the solo project of Brooklyn-based sound artist and filmmaker Sarah Lipstate. Lipstate uses a double-neck guitar and various electronics to create breathtaking atmospheres with an intensity that works on both a cognitive and emotional level. Lipstate is the sonic personification of rolling waves, brush fires and distant bird songs. Her short films have been screened for two consecutive years at SXSW, earning Lipstate the Diamond in the Rough Cut award for exceptional emerging filmmaker at the Cinematexas 2006. For MNMP's performance, Lipstate will premiere a new 16mm hand-painted film to accompany her set.
Zemi17 is composer, musician and media artist Aaron Taylor Kuffner. He is, along with the League of Electronic Musical Urban Robots (LEMUR) the co-designer of the 'GamelaTron', the first and only fully robotic Gamelan orchestra. Gamelan, the ancient tradition of Indonesian gong-chime percussion, features metallophones, xylophones, drums and gongs that, woven together, produce a hauntingly beautiful soundscape. Kuffner uses a laptop to control the GamelaTron's 117 robotic striking mechanisms. His performances are both visually and sonically astounding.
This performance is made possible with public funds from the New York City Department of Cultural Affairs and the New York State Council on the Arts, a state agency.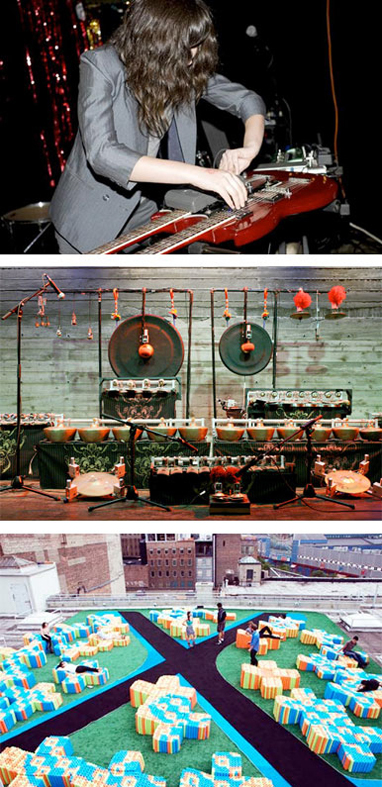 Noveller & Zemi17