Everyday Arts for Special Education (2010-15)

» EASE teachers log-in here

» EASE Level II teachers log-in here

» District-wide teachers log-in here
MNMP and District 75, New York's special education district, have received an Investing in Innovation Fund (i3) award from the U.S. Department of Education.
The $4.6 million grant, combined with a $500,000 contribution from National Philanthropic Trust, will fund a five-year project developing arts programs for special education students.
Everyday Arts for Special Education (EASE) is a professional development program designed to improve student achievement in the areas of communication, socialization, academic learning, and arts proficiency through integrated, arts-based approaches.
Through a series of training workshops and extensive in-school support, participating teachers in ten treatment schools will learn skills and strategies across multiple arts disciplines (music, dance, visual arts, and theater) in order to integrate the arts into their classroom instruction. In addition, we will broaden the reach of the project beyond these schools by offering EASE training to other teachers within District 75 through its District-wide professional development program, to special education teachers and college students through Summer Seminar workshops, and to special education administrators nationwide through Administrators' Workshops. Through treatment schools and other training efforts, EASE will serve 40,795 students.
The project will be evaluated by Dr. Rob Horowitz, Associate Director of the Center for Arts Education Research at Teachers College, Columbia University.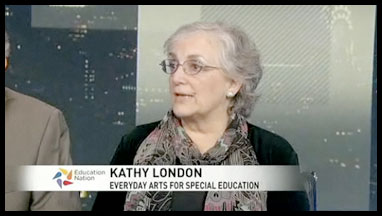 Watch Video:
Project Director Kathy London and Evaluator Dr. Rob Horowitz discuss Everyday Arts for Special Education on NBC's Nightly News with Chuck Scarborough. – » Click to Watch
» Read more about the i3 grant award